Sign up for my
ministry report

and receive frequent updates on what I'm doing.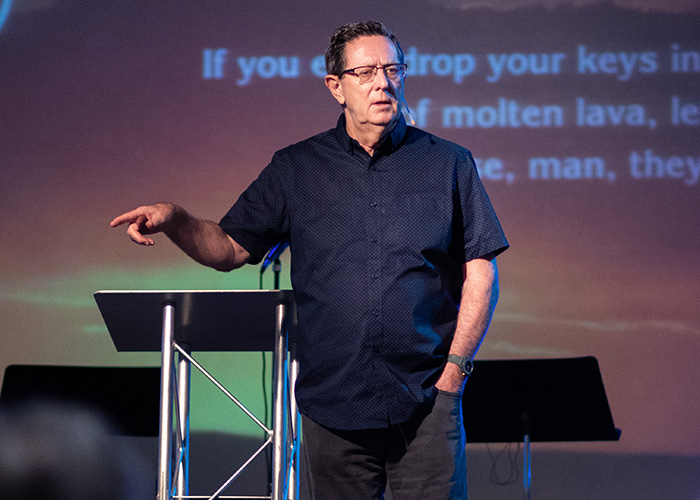 "God has been so good to us"
MY STORY
I gotta long life story
---
My wife and I met at Lutheran College in the last century: 1967. We married in '71 and moved back to Phoenix, where I grew up, to join the ministry team at a small church in west Phoenix in 1972. ...The mine in Oracle has closed, but the church, Living Word, is still there and thriving!
PASTORAL MINISTRY
I began preaching at what became Word of Grace in '82. I served there as lead pastor for 25 years, passing the mantle to Terry & Judith Crist in 2008. They would later join the Hillsong.
CURRENT MINISTRY
Currently I'm serving as Phoenix Mobilizer for the American Bible Society (ABS). No! I'm not retired. Just not serving as a lead pastor! I consistently guest speak at churches around Phoenix amongst other things.
Messages
I have many thoughtful, inspirational, and transformational messages on YouTube and websites of local churches where I've shared God's Word. Click here and check out titles and themes.
Writing
Over the span of decades that I've been in ministry I've published more than 10 books. You can see many here on my site. And, look at my blog to see my latest articles.
Current Ministry
Click here to see the specifics of my ministry work for American Society and other opportunities I have for service and influence. One things for sure, I am definitely not retired.
I am so grateful to the many people who have made it possible for my wife and I to do the ministry we have for so many years.
By giving to Nothing But Grace, LLC your investing in personal ministry to local pastors and community leaders – and in uniting the body of Christ, building collaborative relationships, and bringing about extraordinary spiritual and social transformation in our city and State.
Nothing But Grace is overseen by a board of trustees made up of a strong group of leaders with backgrounds in business, leadership and ministry. They help to ensure that every dollar we receive is handled with utmost integrity.
I couldn't do what I do to help see our city and state changed without the generosity of people like you. I'd encourage you to pray about giving, today. One time and reoccurring gifts are so appreciated.
---
To get the full value of joy you must have someone to divide it with.
Learning to Love the One You're With
A guide for young couples, detailing how to live happy and in Christ. Topics include: Learning to live through tough times; Creating a healthy sex life; Handling money wisely; Choosing to put God first in marriage; and Being faithful for a lifetime.
Leaders That Last: How Covenant Friendships Can Help Pastors Thrive
Thousands of ministers burn out every year; others fall prey to sexual temptation. With piercing honesty, Leaders that Last dismantles stale stereotypes about pastors and offers hope for handling their recurring, daily struggles. Co-authored by a minister who admits to struggling with periodic bouts of depression, this practical resource offers a hopeful message for pastors of every denomination.
Want to know what's happening with me on a consistent basis. Sign up for my ministry newsletter to see what's happening in my life and where I might be speaking. I won't spam you and you won't regret it.